From planning to deliverables, we add value beyond our artistic work
We own our creative process from start to finish, and will help guide effective, collaborative planning. From our first call to when we present your finalized custom work, we aim to be both creative and reliable partners.
Our visuals have made impact for teams across industries: from tech to retail, to academic and nonprofit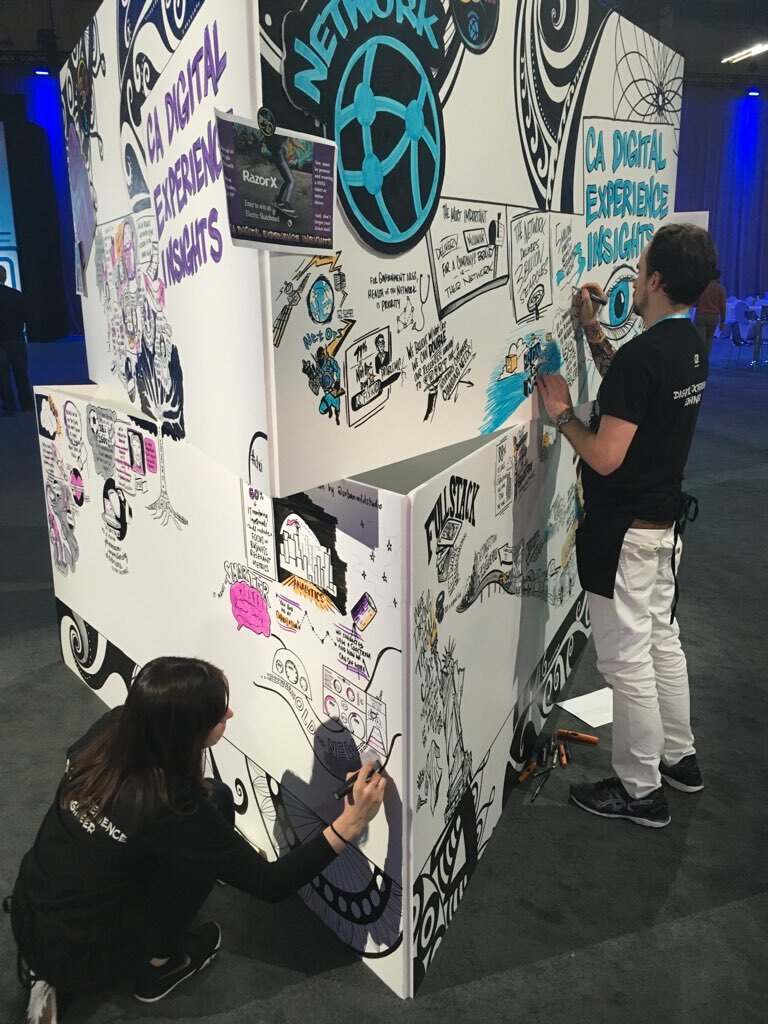 Captured customer success stories for a major tech brand during their annual 6000-person expo
Drew universal perspectives on culture and innovation at a multi-nation UN panel
"Thank you so much for your excellent (and creative work), it was fun to watch and the workshop attendees couldn't stop with the compliments."
– Wende C, Microsoft Research
"Urban Wild Studio was such a wonderful addition to our event! The live art created so much buzz from our attendees and memorialized our event. Leah and her team are really delightful to work with. If you are looking for a fresh element to invigorate your next meeting or event, call Urban Wild Studio; you will not be disappointed!"
Melissa Grady, TEDxDePaulUniversity
"This really was a highlight of our event and we enjoyed working with [Leah] and Geoff"
– Hana A, United Nations
"We loved having [Urban Wild Studio] working with us, and treasure your artwork."
–Christel N, United Nations
"Urban Wild Studio provided us with a unique graphical way of documenting our most recent Leadership Summit. Our attendees loved it, and we were able to display a "living history" content throughout our meeting. Leah and her team were amazing to work with throughout the process. I highly recommend working with them to provide your attendees with a unique overview of any event!"
– Jennifer Braun, National Association of Realtors
"Leah has a keen capability to match content with a strong visual identify. Her ability to capture my presentation was spot on, fun, and creative."
–Natalie Leone, BlackRock
"Leah and Jill were amazing! They were easy to work with and organized throughout the planning phase. They were professional, flexible and their work was a brilliant addition to our conference. We will definitely use them again!"
–Ilse Hamblin, Focus Financial Partners
"Leah was able to take the ideas of 10 different youth groups and transform them into amazing drawings that wow'd the crowd and the participants themselves."
–Amy Eiduke, Allstate Foundation
"I had to pleasure of working with Leah for a graphic recording of a C-Suite Executive Roundtable. From a production standpoint, she beautifully brought to life the ideas and concepts of hospital executive administration. From a business standpoint, she was able to thoughtfully navigate the competing interest of various internal and external stakeholders. Leah is thorough, thoughtful and sure to surpass your expectations."
–Leah Fishbein, Becker's Healthcare
"On behalf of DisruptHR Chicago, we thank you Leah! You did an amazing job breathing life into our meeting and making it fun and allowing the words to come alive. What an exciting and interactive showcase of how a meeting can be illustrated and take aways can become clear. Your professionalism, promptness and great responsiveness was much appreciated! Great work!"
– Kelly Burlage, DisruptHR
Like what you see? Get in touch to discuss your project